First Off, Pay Attention and Do Your Research
As our anti-racist efforts have gained traction, we are facing a bizarre phenomenon: there are some known racist groups who have recently added "we're not racist" disclaimers to their materials, while continuing to
be
just as racist as ever. There are also some new "Pagan" or "Heathen" groups, allegedly for "anti-racists," who have white supremacist ties. Some of these groups include pretendians and other appropriators who are harming Indigenous cultures, who hate groups like ours because we have Native members, work directly with Native groups and speak out against appropriation. One particularly sociopathic member of one of these "anti-racist" "Celtic" front groups collected data on people in the Gaelic communities via malicious sockpuppeting behaviour to then give people's personal information to Neo-Nazis.
These front groups are at best Public Relations posturing without substantive action. At worst they are camouflage for those who are actually working to harm our communities.
There are even a couple of actively harmful white people who have been kicked out of the outer circles of
Gaol Naofa
, and were never let in to CAORANN, but still fly our banner on their tumblr blogs in some bizarre facade of Social Justice Warrior / "safe place" pretense. They appropriate our image
while lying about and making racist, misogynist and homophobic attacks on elder members of our community, including posting private information and endangering our children, grandchildren and trans members of our families
. In a surreal burst of irony, these heteronormative, gender-conforming, racist white girls are claiming that our gender-variant and LGBT members are somehow "excluding"
ourselves
from
our own
communities. Communities straight white people like these two have never been a part of and have no right attempting to colonise, appropriate, or speak for. These outcasts and never-belonged have violated the privacy and boundaries of the very people who tried to help them, the very people they have proclaimed themelves to be unwanted "allies" to. One of them changed security settings to make private discussions into public posts, then lied about it, whilst
spitting obscene, racist insults at Indigenous Elders, including a revered, Two-Spirit community leader and a respected Grandmother who only tried to help them.
Gods, spare us the straights misappropriating and policing queer identities. These racists only want a "safe place" for straight white people. They're no allies; the oppressed people they objectify and attempt to tokenize want nothing to do with them.
The trans and Two-Spirit members of our communities have marked these racist colonisers as dangerous people, and are relieved that we never disclosed personal details or medical histories to these abusive homophobes.
Don't trust anyone just because they fly a ripped-off banner. Find out who they really are. Be alert; be aware; and know that people are not always what they claim to be. Watch what work people
do
, in public and in private, over time, and not just what they say in efforts to improve their public image.
Obvious Racists and Neo-Nazis
In Sheep's Clothing - Around the US, radical right groups are staging �European� festivals in a bid to draw ethnic whites into their movement. For many years they have targeted those of Nordic descent, and now they are trying to recruit Scottish-Americans, Irish-Americans and others of Celtic heritage. Be aware, and find out more about any �Ethnic European,� �Celtic� or �Gaelic� festivals or groups before making ties or commitments to them.
Klan Knights Cash in on Celtic Racism - �The Ku Klux Klan, the white supremacist movement known for racial murders and cross-burning in the American deep South, has set up a network of activists in Britain. It is believed that the Klan aims to capitalise on the growth of Scottish and Welsh nationalism - areas it sees as truly white, Celtic and �untainted� with Jewish, black or Asian blood.�
Yesterday and Today: Nazis and the Righteous Right - �History is tapping us on the shoulder and pointing. The sixtieth anniversary of the liberation of Auschwitz followed so closely by the popification of an ex-member of the Hitler Youth combine to force our attention back to the Nazi catastrophe. ... If we take a look at pre-WWII Germany, we notice it has some things in common with the United States now.�
Irish History
Indigenous Solidarity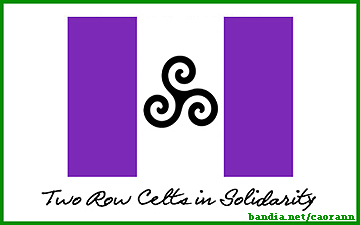 The Celtic Nations Now, and the Revival of Earth-Honouring, Gaelic Spiritual Ways
The Celtic League - An inter-Celtic organisation that campaigns for the social, political and cultural rights of the Six Celtic Nations. Language preservation and revitalization is a high priority.
Gaol Naofa - An international Gaelic Polytheist organization and community, promoting the preservation and revival of the earth-honoring Gaelic traditions, languages, and cultures. Gaol Naofa has an excellent FAQ, articles, videos, informational flyers, as well as a Facebook and Twitter presence. Gaol Naofa has a staunch, anti-oppression policy, and kicks out people who violate it. Like us they have a diverse, extended community that includes advisors from the First Nations and Celtic Nations. Most of the CAORANN council are proud members of Gaol Naofa.
Tairis - Gaelic Polytheist site of CAORANN Council member Annie Loughlin, with writings on Gaelic culture and traditions, especially matters particular to the land where she lives in Scotland.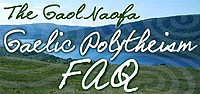 General Anti-Racist Resources

More links and news can be found on

Annies's blog:

Tairis

- a Gaelic Polytheist blog, sister site to

her website

, with GP-related articles and personal posts about living her spirituality.

Kathryn's blog:

Amhran nam Bandia

- Occasional musings on spirituality and culture,

Gaelic Polytheism

(

Ioma-Dhiadhachd Gh�idhealach

/

Ildiachas Gaelach

), language and cultural preservation, protecting sacred sites, and solidarity with our indigenous friends, relatives, advisors and colleagues.

<! ------------------------------ END CONTENT ------------------------------ > <! ------------------------------ BEGIN FOOTER ------------------------------ >