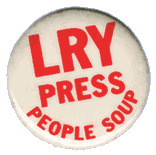 Hi friends,
For anyone interested in the People Soup archives...
I currently have only the originals from the printing of the xeroxed, bound editions I made a couple of years ago. The set includes complete copies of every issue and I can make copies of it for a reasonable fee for anyone who might want it. Just e-mail me directly if you're interested.
If there is sufficient interest I can do a second printing. Although the price would have to be a little higher this time to cover costs, it would ultimately cost less than the current option of making only individual copies. My long-range goal is to get them all put on CD-ROM and also do a more extensive index with cross references to names and major topics contained within (although that may be a few years off).
If you are primarily interested in getting copies of just particular issues or years, feel free to let me know what ones you want and I can also send them out at nominal cost, given a little time.
For those who already have the complete set: In May I discovered an error and omission in the original People Soup collection I put together three years ago. The Vol. 7, No. 1 issue from Oct. 1979* is incorrectly indexed and reproduced as 16 pages. It is actually 32 pages, which brings the total number of pages in the set to an even 700. I discovered the missing pages at my print shop totally by accident. I'll be happy to send you the additional 16 pages for free if you'll e-mail me your current mailing address.
This is the general index to the complete set:



PEOPLE SOUP
Published by Liberal Religious Youth, Inc.
An affiliate organization of the Unitarian Universalist Association, Boston, Mass.
Years of Publication: 1973-1982
Total issues: 45
Total pages: 700
VOLUME 1 1973-74
Volume 1, Number 1 (People Soup, that's a funny name) Nov.-Dec., 1973; 8 pages
Volume 1, Number 2 (Board Follies) January, 1974; 8 pages
Volume 1, Number 3 (Gee, A -- General Assembly) February, 1974; 12 pages
Volume 1, Number 4 (Fieldtripper's Journal) March, 1974; 8 pages
Volume 1, Number 5 (I Can't Relate Unless You Affiliate) April, 1974; 12 pages
Volume 1, Number 6 (Power of You to Change Society) Undated;12 pages
Volume 1, Number 7 (Youth Caucus/GA Chronicles) July, 1974; 8 pages
VOLUME 2 1974-75
Volume 2, Number 1 (Gay Rap/"Beach" artwork) Undated; 12 pages
Volume 2, Number 2 (Its The Amerikanadian Way) December, 1974; 12 pages
Volume 2, Number 3 (How to Do It/Racism in Boston) February, 1975; 12 pages
Volume 2, Number 4 (Summer Camps/J.C. mumbles...) April, 1975; 16 pages
Volume 2, Number 5 (Poetic License) May, 1975; 16 pages
Volume 2, Number 6 (First "Cream of People Soup") August, 1975; 24 pages
VOLUME 3 1975-76
Volume 3, Number 1 (A Canuck and a Yankee) Autumn, 1975; 12 pages
Volume 3, Number 2 (Let the Flame Spread) December, 1975; 12 pages
Volume 3, Number 3 (La Creme de People Soup) February, 1976; 24 pages
Volume 3, Number 4 (Ingredients:) March, 1976; 12 pages
Volume 3, Number 5 (Chalice artwork) April, 1976; 16 pages
Volume 3, Number 6 (Life at Boston City Hall) June, 1976; 12 pages
Volume 3, Number 7 (Cream of People Soup/Rattell artwork) July, 1976; 24 pages
VOLUME 4 1976-77
Volume 4, Number 1 (Michigan & Mediocrity) Undated; 12 pages
Volume 4, Number 2 (Youth: Legal Nonentities) November, 1976; 8 pages
Volume 4, Number 3 ("Cream" issue on sexuality) February, 1977; 20 pages
Volume 4, Number 4 (Capsule History of UU Youth) April, 1977; 12 pages
Volume 4, Number 5 ("Cream" issue on Social Actions) Undated; 32 pages
VOLUME 5 1977-78
Volume 5, Number 1 (How Mass Media Distort the News) November, 1977; 20 pages
Volume 5, Number 2 (Abortion) December, 1977; 12 pages
Volume 5, Number 3 (Spirituality) February, 1978; 16 pages
Volume 5, Number 4 ("Cream" issue/Bombs Away) April, 1978; 20 pages
Volume 5, Number 5 (Summer/Self Determination) July, 1978; 20 pages
VOLUME 6 1978-79
Volume 6, Number 1 (Kaleidoscope/Business Res. Youth) October, 1978; 12 pages
Volume 6, Number 2 (Environment/Greenpeace) January, 1979; 12 pages
Volume 6, Number 3 (Communities/Twin Oaks) March, 1979; 16 pages
Volume 6, Number 4 (Alternative Education) May, 1979; 16 pages
Volume 6, Number 5 (Dialogue on Peace) July, 1979; 20 pages
VOLUME 7 1979-80
Volume 7, Number 1 (Int'l Year of the Child) October, 1979; 32 pages*
Volume 7, Number 2 (Conformity) January, 1980; 12 pages
Volume 7, Number 3 (L. Talbot bowl artwork) March, 1980; 12 pages
Volume 7, Number 4 (Youth Groups) July 1980; 12 pages
VOLUME 8 1980-81
Volume 8, Number 1 (Celebration of Life) November, 1980: 12 pages
Volume 8, Number 2 (Social Actions) April, 1981; 24 pages
Volume 8, Number 3 (Reflections) July, 1981; 12 pages
VOLUME 9/10 1981-82
Volume 9, Number 1 (Church) December, 1981; 12 pages
Volume 10, Number 1 (Moving Into the Real World) Undated 1982; 16 pages
Volume 10, Number 2 (Creme de la Creme/Final Issue) July, 1982; 36 pages
---
Peace,
Ed Inman
edinman@earthlink.net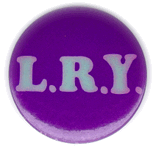 ---
Copyright on all contributions belongs to the individual authors
Site maintained by kathryn price theatana for big electric celt productions
webcrafter@bandia.net
Updated 8.15.00